While there is no explicit coding curriculum in place until Grade 6 ADST, earlier elementary grades are ideal places to begin the exploration of coding and computational thinking concepts. One easy way to start is by identifying areas of your existing curriculum where Computational Thinking already exist.
Computational Thinking
Computational thinking is recognized as a key skill set for all 21st century learners – whether they intend to continue with Computing Science or not,  it's an important skill to identify and often exists within existing curriculum and classroom assignments. These can be grouped into four main areas: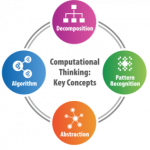 Read more about Computational Thinking here…
It is strongly recommended that teachers create a teacher account for scratch, and create the student accounts with passwords under an agreed anonymous convention.