British Columbia's curriculum is being redesigned to respond to the demanding world our students are entering.  Transformation in curriculum will help teachers create learning environments that are both engaging and personalized for students. At the heart of British Columbia's redesigned curriculum are core competencies, essential learning and literacy and numeracy foundations. https://curriculum.gov.bc.ca/home
Here are helpful curriculum grids sorted by subject and grade in a Google Drive Folder.
This video provides information on navigating BC's curriculum redesign website, the information found there and how to the curriculum search tool. (Created by BC Ministry of Education):
The Curriculum Model: a video explaining how the different components of BC's redesigned curriculum work together to form a conceptual model that is competency-driven:
In this video, the Know, Do, Understand Curriculum Model is explained:
Know – Content
Do – Curricular and Core Competencies
Understand – Big Ideas
The Know, Do, Understand Curriculum Model is designed as a series of interconnected components. Deeper learning can be achieved through the "doing" in this concept-based curriculum that is driven by the Curricular and Core Competencies. Through the Curricular Competencies and the Core Competencies, there are more opportunities for students to develop a deeper understanding of the concepts and the application of processes.
When planning, teachers may chose to begin with a Big Idea, the Curricular Competency or with the Content they want their students to learn. Next, they pull from the other two components – three when you include the Core Competencies – the aspects that fit. This model facilitates a responsive approach to the needs and interests of the students, teacher and to the context of where the learning is taking place.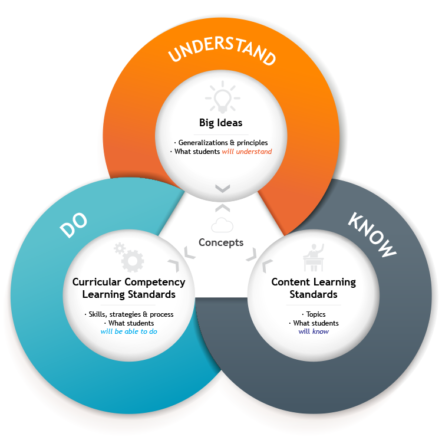 Core competencies are sets of intellectual, personal, and social and emotional proficiencies that all students need to develop in order to engage in deep learning and life-long learning.
View: Core Competencies Poster
Communication -The communication competency encompasses the set of abilities that students use to impart and exchange information, experiences and ideas, to explore the world around them, and to understand and effectively engage in the use of digital media.
Thinking – The thinking competency encompasses the knowledge, skills and processes we associate with intellectual development. It is through their competency as thinkers that students take subject-specific concepts and content and transform them into a new understanding. Thinking competence includes specific thinking skills as well as habits of mind, and metacognitive awareness.
Personal and Social – Personal and social competency is the set of abilities that relate to students' identity in the world, both as individuals and as members of their community and society. Personal and social competency encompasses the abilities students need to thrive as individuals, to understand and care about themselves and others, and to find and achieve their purposes in the world.
Big Ideas: a video explaining what big ideas are and the role they play in the conceptual model of BC's redesigned curriculum:
Big Ideas are:
enduring understandings
concepts, principles, and theories
generalizations that transcend time and are transferable to new learning
the foundation that will enable students to engage in deeper learning in the future
remembered by students
Curricular Competencies and Content: a video explaining what curricular competencies and content are and how they work together to form the learning standards: