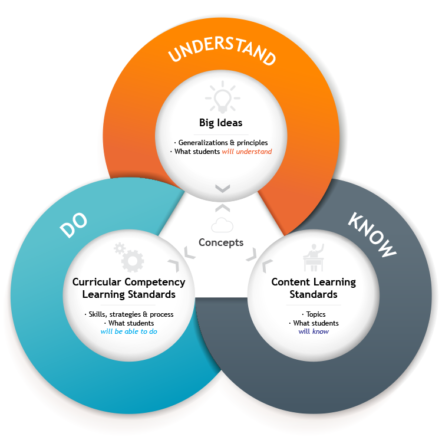 Assessment and curriculum are interconnected. Curriculum sets the learning standards that give focus to classroom instruction and assessment. Assessment involves the wide variety of methods or tools that educators use to identify student learning needs, measure competency acquisition, and evaluate students' progress toward meeting provincial learning standards.
B.C.'s assessment system is being redesigned to align with the new curriculum. Assessment of all forms will support a more flexible, personalized approach to learning and measure deeper, complex thinking. These tools and resources will be aligned to B.C.'s Know-Do-Understand curriculum model  – what students are expected to know, be able to do, and understand. (see diagram at left)
The Ministry of Education Assessment & Reporting page is your best source of up-to-date information.
Supporting Documents
 Assessment Supports
District Samples: Self-Assessment of Core Competencies