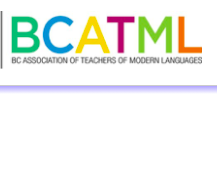 We are very happy to announce an upcoming virtual conference for Language teachers that will take place on Friday October 22nd, 2021. We are able to cover registration fees for up to 40 teachers for the BCATML conference: Celebrating Languages 2021. This opportunity is available to all Core French, Spanish and Modern Languages, ELL and Late French Immersion teachers. 
We are funding this on-line conference since there are many workshops and keynotes on Comprehensible Input and TPRS (Total Proficiency Through Reading and Storytelling), such as a keynote by Martina Bex on the Comprehensible Classroom, as well as two workshops by Adriana Ramirez and Michelle Metcalfe on TPRS and reading in the language classroom. TPRS and Comprehensible Input refer to language learning approaches and strategies that many teachers in our district use in their language classroom. 
Participants who attend these workshops will be eligible to sign up for our "TPRS Beyond the Basics" professional learning series that will be starting in early November in our district (more information coming soon!).
In addition, Core French secondary teachers and Spanish teachers who sign up will receive  free teacher and student guide books written by Adriana Ramirez.
We ask that  interested teachers first visit the conference site above, and then
fill out the google form
HERE
by Friday October 1st,
to express your interest in attending the conference. We will follow up by email with a free code to register for the conference. It will then be up to each teacher to register for the conference using our district's free code. 
We look forward to seeing many of you at this conference for language teachers!
If you have any questions, please contact Madeleine Challies, SD61's French Language Coordinator.