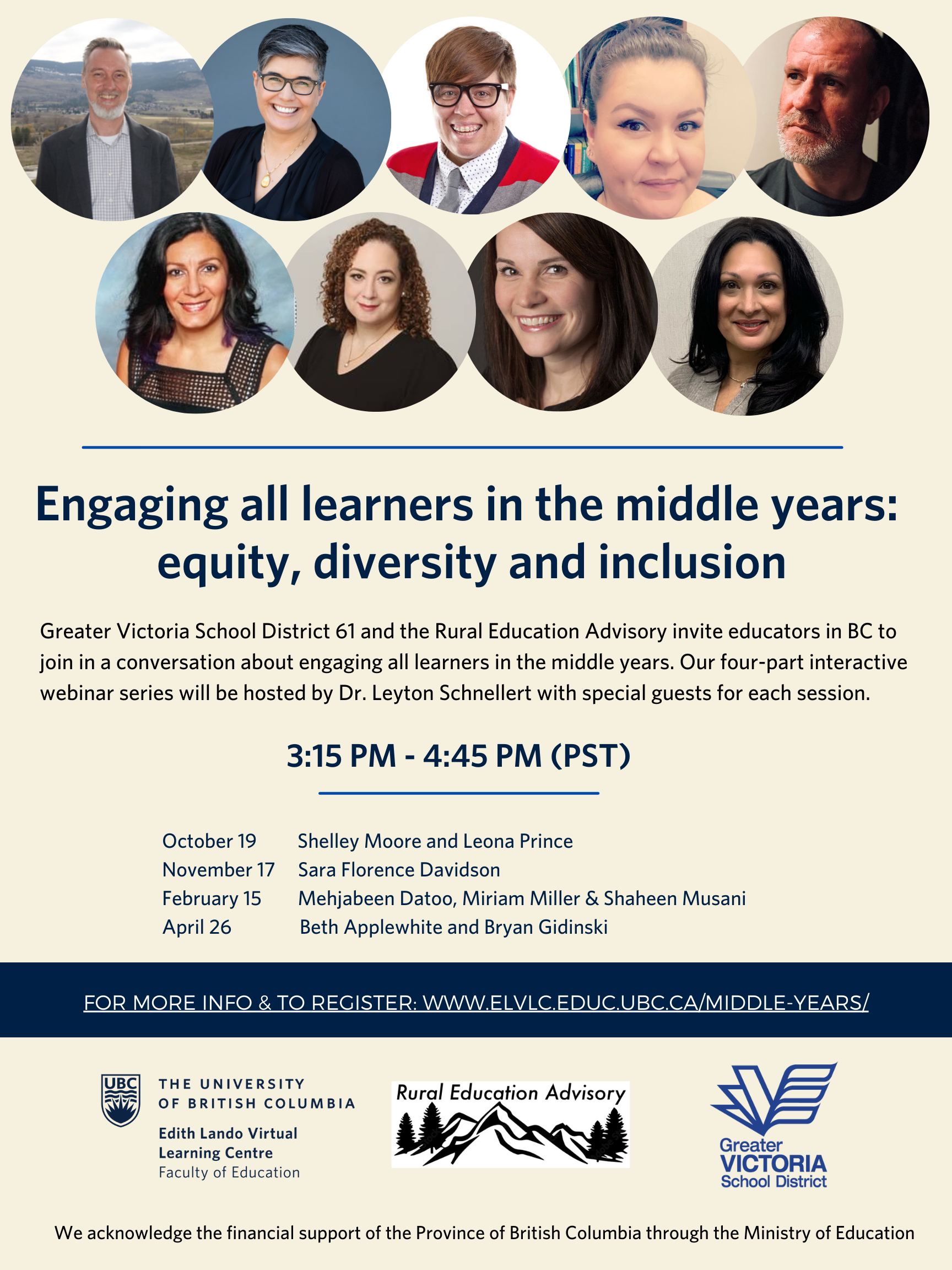 Greater Victoria School District 61 and the Rural Education Advisory (UBC) invite educators in BC to join in a conversation about engaging all learners in the middle years.
This four-part interactive webinar series will feature leading BC educators and examples from across the province.
October 19th, 2021
Archives
Part 1 – Equity, Diversity and Inclusion with Denise Augustine
Part 2 – Equity, Diversity and Inclusion with Shelley Moore
Part 3 – Equity, Diversity and Inclusion with Leona Prince 
November 17th, 2021
February 15th, 2022
Archives
Part 1,2,3 – Engaging All Learners in the Middle Years: Equity, Diversity and Inclusion with Mehjabeen Datoo, Miriam Miller & Shaheen Musani
April 26th, 2022
All information in partnership with UBC found here – elvlc.educ.ubc.ca/initiatives/middle-years/ 
---
Speakers
Leyton Schnellert, PhD
Leyton is an associate professor in UBC's Department of Curriculum & Pedagogy and Eleanor Rix Professor in Rural Teacher Education. He focuses on how teachers and teaching and learners and learning can mindfully embrace student diversity and inclusive education. Dr. Schnellert is the Pedagogy and Participation research cluster lead in the UBC Institute for Community Engaged Research and co-chair of BC's Rural Education Advisory Committee. He has been a middle- and secondary-school classroom teacher and a learning-resource teacher for grades K–12. His books, films, and research articles are widely referenced locally, nationally, and globally.
For more information about Leyton visit: leytonschnellert.com or on twitter as @LeytonSchnell
Shelley Moore
Originally from Edmonton, and now based in Vancouver, British Columbia, SHELLEY MOORE is a highly sought-after teacher, researcher, speaker and storyteller and has worked with school districts and community organizations throughout both Canada and the United States. Shelley's presentations are constructed based on contexts of schools and communities and integrate theory and effective practices of inclusion, special education, curriculum and teacher professional development. Her first book entitled, "One Without the Other" was released in July 2016 to follow up her TEDx talk. Shelley completed an undergraduate degree in Special Education at the University of Alberta, her masters at Simon Fraser University, and is currently a PhD candidate at the University of British Columbia.
For more information about Shelley visit: blogsomemoore.com or on twitter as @tweetsomemoore and Instagram as @fivemoreminutes
Leona Prince
Leona Prince is from the Lake Babine Nation and Nak'azdli Whu'ten and belongs to the Likh Tsa Mis Yu (Beaver) Clan. She is a descendant of Chief Kwah and Stiche. Leona is an award-winning educator and is currently the District Principal of Aboriginal Education for School District 91 (Nechako Lakes). She is the author of A Dance Through the Seasons, published by Fireweed Canada. Her newest publication that is to be released on May 17, 2022 is Be a Good Ancestor, published by Orca Publishing. Leona lives in Burns Lake, British Columbia.
Sara Florence Davidson
The focus of my scholarship has always been to seek ways to improve schooling experiences for Indigenous students by collaborating with and learning from Indigenous communities, Indigenous students, and university and research communities. In my work with Indigenous communities, I have endeavoured to find balance between my commitment to making contributions to the communities while also ensuring that I am engaging in respectful, ethical, and relational research practices. My program of research and publications seek to transform current pedagogical and research practices to be more respectful and inclusive of Indigenous contributions, particularly in the area of English Language Arts.
Mehjabeen Datoo
Mehjabeen Datoo is currently a Secondary English Language Arts, Social Studies and Humanities teacher working in the Richmond School District in British Columbia. She is also completing her PhD at the Ontario Institute of Studies in Education (OISE) at the University of Toronto, investigating whether and how technology can be used to understand and shift perspectives in the teaching of Muslim cultures and civilizations.
Miriam Miller
Miriam Miller is an educational and research consultant committed to bringing social and emotional learning (SEL) to the forefront of the education community. Miriam works with educational institutions and organizations to support on-going professional learning in the areas of emotional literacy, school and classroom climate, and intervention/prevention initiatives. Miriam is a senior coach and trainer with the Yale Center for Emotional Intelligence at Yale University and a researcher with the Social, Emotional, and Educational Development lab at the University of British Columbia. The combination of Miriam's background as an educator, and her current role as a researcher, allows her to dynamically present research-to-practice in especially relevant ways for educators.
For more information about Miriam see her on Twitter @miriam_e_miller
Shaheen Musani
Shaheen Musani is a teacher consultant in the Richmond School District in British Columbia, Canada. Her focus is in supporting teachers from K-12 in curriculum implementation and assessment. She works across grades and subject areas including Math, English Language Arts, Social Studies, Career Education and Physical Health Education. Prior to this role, Shaheen worked as a secondary Math, ELA and Career Education teacher for 17 years. In addition to her work with teachers, Shaheen has supported the development of curriculum and assessment standards for British Columbia's Ministry of Education.
Beth Applewhite
Beth Applewhite is the acting District Principal of Equity, Diversity and Inclusion with the Burnaby School District. BC-born and raised, Beth is a bi-racial educator of Trinidadian and Scottish heritages. She has been unrelenting in her determination to challenge the status quo and create equitable experiences and spaces that both acknowledge racial bias and celebrate personal and cultural identities. Beth recognizes that most folks value diversity, equity and inclusion. The challenge is encouraging them to be vulnerable enough to explore and reflect on their own biases, practices and rituals that contribute to school/district culture. Beth has been recognized for her work, including the BC Lieutenant Governor's Community Achievement Award (2019). She was nominated for a YWCA Women of Distinction Award (2020) and has been nominated for a Premier's Award in Education (2020/2021). She has also been named one of the 100 Accomplished Black Canadian Women (2020/2021).
Bryan Gidinski
Bryan Gidinski is an intermediate elementary school teacher with more than twenty years of teaching experience. In addition, he has worked as a Faculty Associate and Sessional Instructor, teaching courses in Language Arts Methodology and Classroom Management as well as facilitating teacher education modules with Diversity and Literacy themes. He currently holds a district leadership role as the Sexual Orientation and Gender Identity (SOGI) Support Teacher for Elementary Schools. He has demonstrated a passion for writing and enjoys facilitating rich writing experiences for students, so that they develop comfort and become experimental with language and composition. In addition, he has been very sensitive to the issues surrounding boys and their learning, and strives to provide instruction that is highly motivating for all students, and that allows students opportunities to achieve to their highest potential. He is also an advocate for ensuring that LGBTQ+ students and their families see themselves reflected in curricular resources, lessons, and conversations by promoting themes of diversity and acceptance.