Communicating student learning is a vital component of the learning process and fundamental to student success. This is an ongoing process throughout the school year that involves the teacher, the student and the parent.
The assessment information communicated to parents includes suggestions on how to improve student learning and how parents can support their child in the process. This communication can occur in a number of ways, from traditional report cards, to conferencing, to electronic communication.
The B.C. Ministry of Education requires schools to communicate with parents, regarding their children's learning, at least three times a year. In Greater Victoria School District, teachers provide a formative snapshot of student learning two times a year, with a third and final summative report card in June. All three report cards describe what the student knows (content), can do (curricular competencies), and understands (transfer of big ideas and concepts) as well as suggestions for ways to support the learning at home.
What's New?
Transitioning to Proficiency Scale 2021-22
Where We Were  
The move to Proficiency Scales is a shift away from using traditional letter grades: A, B, C+, C,… and/or a performance scale: Not Yet Meeting (1), Approaching Expectations (2), Meeting Expectation (3) and Exceeding Expectations (4). 
Why the Shift? 
Proficiency Scales are based on communicating and describing each student's growth and progression along a continuum of learning. All reports will continue to reflect strengths, areas for improvement and ways to deepen learning.  We anticipate that by the 2022-2023 school year, all schools province wide will be using the Proficiency Scales.
For the 2021-22 school year, elementary and middle schools will have the opportunity to shift away from letter grades and the current Performance Scale. Instead they would use Proficiency Scales as a component of communicating student learning with families.
The following schools are included in the proficiency pilot: Lansdowne Middle School and Cedar Hill Middle School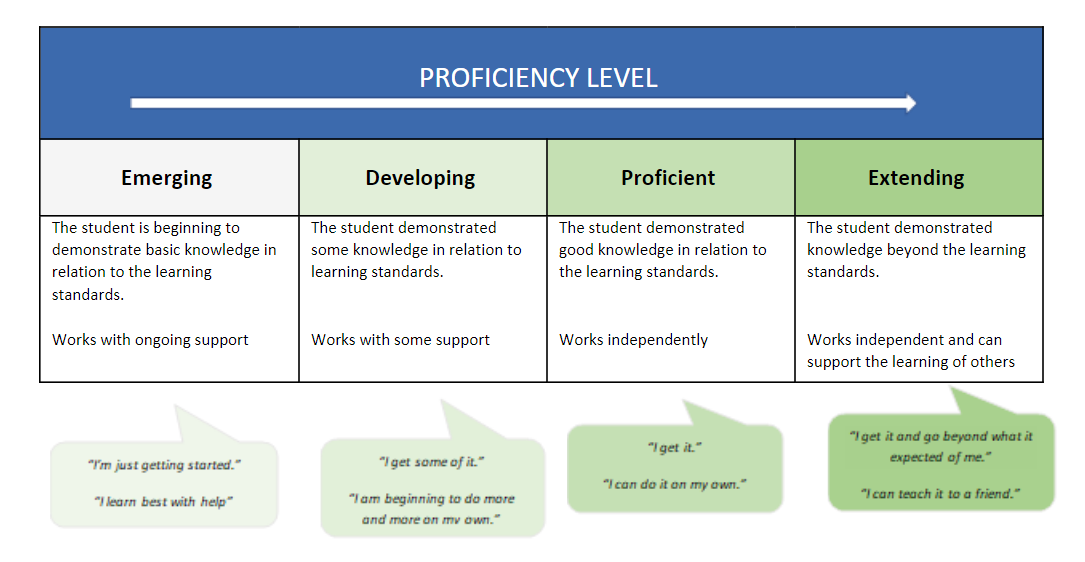 Supporting Resources
French Resources
Related Articles and Posts
Other Resources
We are using 4 tools in SD61 to communicate student learning at the middle level. Click each icon below to go to supports for each tool.