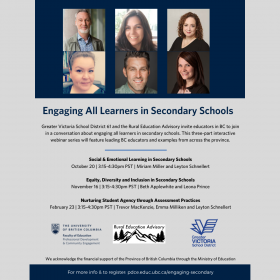 Social & Emotional Learning in Secondary Schools
October 20, 2021 | 3:15pm – 4:30pm PST
Miriam Miller and Dr. Leyton Schnellert
Archives:
Part 1 – Social and Emotional Learning in Secondary Schools with Denise Augustine
Part 2 – Social and Emotional Learning in Secondary Schools with Miriam Miller
Part 3 – Social and Emotional Learning in Secondary Schools with Miriam Miller
Equity, Diversity and Inclusion in Secondary Schools
November 16, 2021 | 3:14pm – 4:30pm PST
Beth Applewhite and Leona Prince
Archives:
Part 1 – Equity, Diversity and Inclusion in Secondary Schools with Beth Applewhite
Part 2 – Equity, Diversity and Inclusion in Secondary Schools with Leona Prince
Nurturing Student Agency through Assessment Practices
February 23, 2022 | 3:15pm – 4:30pm PST
Archives:
Part 1, 2 and 3 –  Trevor MacKenzie, Emma Milliken and Dr. Leyton Schnellert
Designing for Access and Engagement
May 18, 2022 | 3:15 – 4:30pm PST
Shelley Moore, Katie Marren, and Shannon Schinkel

Once registered, you will receive a reminder and zoom link for the webinar session a few days before the date.
Please visit this website for more information: Click Here
Engaging All Learners in Secondary Schools Webinar Series Poster – PDF Download
---
Speakers
Leyton Schnellert, PhD
Leyton is an associate professor in UBC's Department of Curriculum & Pedagogy and Eleanor Rix Professor in Rural Teacher Education. He focuses on how teachers and teaching and learners and learning can mindfully embrace student diversity and inclusive education. Dr. Schnellert is the Pedagogy and Participation research cluster lead in the UBC Institute for Community Engaged Research and co-chair of BC's Rural Education Advisory Committee. He has been a middle- and secondary-school classroom teacher and a learning-resource teacher for grades K–12. His books, films, and research articles are widely referenced locally, nationally, and globally.
For more information about Leyton visit: leytonschnellert.com or on twitter as @LeytonSchnell
Miriam Miller
Miriam Miller is an educational and research consultant committed to bringing social and emotional learning (SEL) to the forefront of the education community. Miriam works with educational institutions and organizations to support on-going professional learning in the areas of emotional literacy, school and classroom climate, and intervention/prevention initiatives. Miriam is a senior coach and trainer with the Yale Center for Emotional Intelligence at Yale University and a researcher with the Social, Emotional, and Educational Development lab at the University of British Columbia. The combination of Miriam's background as an educator, and her current role as a researcher, allows her to dynamically present research-to-practice in especially relevant ways for educators.
For more information about Miriam see her on Twitter @miriam_e_miller
Beth Applewhite
Beth Applewhite is the acting District Principal of Equity, Diversity and Inclusion with the Burnaby School District. BC-born and raised, Beth is a bi-racial educator of Trinidadian and Scottish heritages. She has been unrelenting in her determination to challenge the status quo and create equitable experiences and spaces that both acknowledge racial bias and celebrate personal and cultural identities. Beth recognizes that most folks value diversity, equity and inclusion. The challenge is encouraging them to be vulnerable enough to explore and reflect on their own biases, practices and rituals that contribute to school/district culture. Beth has been recognized for her work, including the BC Lieutenant Governor's Community Achievement Award (2019). She was nominated for a YWCA Women of Distinction Award (2020) and has been nominated for a Premier's Award in Education (2020/2021). She has also been named one of the 100 Accomplished Black Canadian Women (2020/2021).
Leona Prince
Leona Prince is from the Lake Babine Nation and Nak'azdli Whu'ten and belongs to the Likh Tsa Mis Yu (Beaver) Clan. She is a descendant of Chief Kwah and Stiche. Leona is an award-winning educator and is currently the District Principal of Aboriginal Education for School District 91 (Nechako Lakes). She is the author of A Dance Through the Seasons, published by Fireweed Canada. Her newest publication that is to be released on May 17, 2022 is Be a Good Ancestor, published by Orca Publishing. Leona lives in Burns Lake, British Columbia.
Trevor MacKenzie
Trevor MacKenzie is an experienced teacher, author, keynote speaker and inquiry consultant who has
worked in schools throughout Australia, Asia, North America, South Africa and Europe. Trevor's passion is supporting schools in implementing inquiry-based learning practices. He is a highly regarded speaker known for his heartfelt storytelling, kind demeanour, and student-first philosophy. Trevor's graduate research focused on identifying and removing the barriers to implementing inquiry-based learning in the K-12 setting. He is an inquiry practitioner currently as a teacher with the Greater Victoria School District in Victoria, Canada. He has two publications: Dive into Inquiry and Inquiry Mindset, both published by Elevate Books Edu. He has vast experience supporting schools across several years in implementation strategies in public schools, international schools, and International Baccalaureate programmes (PYP/MYP/DP).
Emma Milliken
Emma Milliken is from the Kettle and Stony Point First Nation in Ontario, with Anishinaabe and Scottish ancestry. She has been an Indigenous Education support teacher for fifteen years, and is a member of the Indigenous Education District Team in SD 61 (Greater Victoria). Emma is grateful to be working with Indigenous youth, and to have found a home with her own family on Lekwungen territory for the past twenty years. She is currently working on projects to support school staff in their journeys to understanding and practicing reconciliation personally and professionally. In her own teaching practice, her focus has been on both pedagogy and assessment, and how Indigenous approaches in these areas can benefit all children in our schools. Emma lives in Victoria, BC.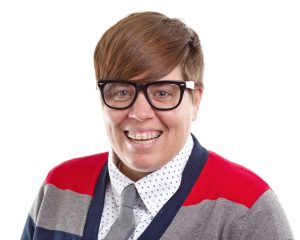 Shelley Moore
Originally from Edmonton, and now based in Vancouver, British Columbia, SHELLEY MOORE is a highly sought-after teacher, researcher, speaker and storyteller and has worked with school districts and community organizations throughout both Canada and the United States. Shelley's presentations are constructed based on contexts of schools and communities and integrate theory and effective practices of inclusion, special education, curriculum and teacher professional development. Her first book entitled, "One Without the Other" was released in July 2016 to follow up her TEDx talk. Shelley completed an undergraduate degree in Special Education at the University of Alberta, her masters at Simon Fraser University, and is currently a PhD candidate at the University of British Columbia.
For more information about Shelley visit: blogsomemoore.com or on twitter as @tweetsomemoore and Instagram as @fivemoreminutes
Katie Marren
Katie is a Cree-Metis Vice Principal at Prince George Secondary School in SD57 and momma to a 12 year old son, Jakob. Prior to being a vice principal, she was a district resource teacher for Inclusive Practice. She is passionate about creating structures that support teaching to diversity and inclusion. Katie spends a lot of time creating resources for and teaching educators about wellness, specifically around guided meditation and mindfulness and variations of yoga and fitness.
https://www.acbced.ca/copy-of-about-nina
Shannon Schinkel
I've been a Humanities and Drama teacher in Prince George for 23 years. I'm also a wife to an amazing husband, a mom to two fine kids (age 17 and 21), and moderately addicted to sparkling water, my two cats, and Twitter. I began my assessment journey about 15 years ago, giving up zeroes and trying to make assessment meaningful to my students by bringing them into the folds of assessment. That has evolved into a spirit to challenge traditional assessment systems and showcase what progressive assessment practices have to offer. I love to work with teachers about how they can evolve their practices through workshops and presentations. In the past few years, I've been designing proficiency sequences that have shaped the way I teach my students through a learning pathway. My radical assessment shifts are helping build a more positive assessment culture in my classroom. I tell people that I'm a sharer and I'm a disruptor. I love to write about both and I'm proudly long-winded. I don't just touch on an idea, I dig deep! But above all, I'm reflecting and developing #MyGrowthMindset.
https://mygrowthmindset.home.blog/