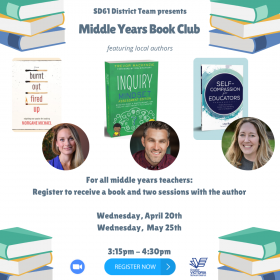 We are pleased to announce a Middle Years Book Club featuring local authors Morgane Michael, Trevor MacKenzie, and Lisa Baylis. They have all lead sessions as part of our January Middle Years ProD day and the feedback was excellent. See archived sessions and resources here.
Based on feedback and requests for their books, you have the opportunity to receive a copy of their book that will be delivered through school mail, and also an opportunity to connect with the authors in two afternoon sessions on zoom.
Dates:
Wednesday, April 20th
Wednesday, May 25th
Time:
3:15pm – 4:30pm
Registration deadline is Feb 15th and books will be delivered to schools prior to the first session, and hopefully before March Break. We are able to offer this to 50 participants for each book. You can only register for one book each. Once you register you will be shared more information and zoom link by email.
We are able to offer this to 50 participants for each book through the school district.
See below for more information about the books and authors.

___________________________________________________________
About the Book and Author
From Burnt Out to Fired Up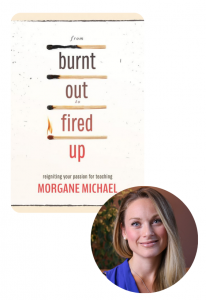 About the Book: Overwhelmed educators, this book is for you.
The truth is that you can be remarkable without burning out. Drawing from the latest research and her own teaching experiences, author Morgane Michael delivers doable strategies to reignite your passion and replenish your well-being. Make a commitment today to begin a new chapter–one where you continue to make a difference while maintaining a deep sense of wellness, worthiness, and wholeheartedness.
Learn why burnout happens and what you can do to thrive once again.
Explore the five Rs–reflect, reframe, refocus, reconnect, and reveal–and understand how each can help counter burnout.
Acquire a clear road map for reigniting your love for teaching.
Inspire others to reignite their own passion for education.
Discover how to sustain your passion and avoid burnout going forward.
About the Author: Morgane is the creator of the blog Small Act Big Impact 21-day-challenge and podcast KindSight 101. She is the author of the book titled From Burnt Out to Fired Up,  the mother of two young kids, and teacher at View Royal Elementary in School District 61.
For more information please visit: smallactbigimpact21days.wordpress.com 
___________________________________________________________
Inquiry Mindset Assessment Edition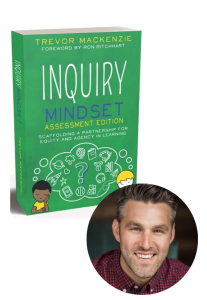 About the Book: Create a seat for your students at the assessment table. Trevor  returns with another deep dive into inquiry as he examines the role of assessment in education through the lens of co-designing and co-constructing with students. In Inquiry Mindset Assessment Edition, MacKenzie outlines a series of beliefs, values, and frameworks that allow all teachers to scaffold towards an assessment reality that is infused with student voice, understanding, and autonomy.
About the Author: Trevor is the creator of the blog www.trevormackenzie.com/posts. Trevor is the author of three publications: Inquiry Mindset Assessment Edition (2021), co-author of Inquiry Mindset Elementary Edition (2018), and the author of Dive into Inquiry (2016) all published by Elevate Books Edu. He is a secondary school teacher at Oak Bay High School in School District 61.
For more information please visit: www.trevormackenzie.com
___________________________________________________________
Self-Compassion for Educators
About the Book: This book is a manifesto—a call to action—that puts educator well-being at the forefront of healthy school culture. It serves to awaken the well-being of educators by helping them understand the "why," "how," and "what" of sustainable wellness. Throughout my journey, I have learned some essential techniques that have helped me remain resilient—practices grounded in mindfulness and self-compassion—that I will share with you throughout this book.
Prioritizing educator well-being has to start now, and we need to get loud about it. We need to permit ourselves to care for ourselves as a priority so we can be present and resilient enough to care for others.
About the Author: Lisa Baylis, lisabaylis.com , author of Self-Compassion for Educators, and school counselor at Esquimalt Secondary School.
For more information please visit: lisabaylis.com
___________________________________________________________
Middle Years Book Club – Spring 2022 – PDF DOWNLOAD