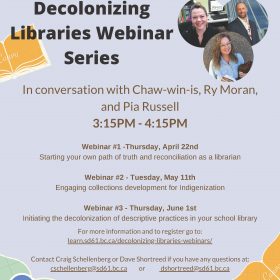 Greater Victoria School District 61 would like to invite teacher librarians to join in a shared conversation about decolonizing libraries. This webinar is free and targeted to teacher librarians.
Our three-part interactive webinar series will have presenters Chaw-win-is, Ry Moran, and Pia Russel. Below below for more information about them.
Webinar Series Information
Time: 3:15PM – 4:15PM
Webinar #1 – Thursday, April 22nd: Starting your own path of truth and reconciliation as a librarian
Webinar #2 – Tuesday, May 11th: Engaging collections development for Indigenization
Webinar #3 – Tuesday, June 1st: Initiating the decolonization of descriptive practices in your school library
Please register to receive a zoom link and information the day before the webinar.
_________________________________________________
Further information of Webinar Presenters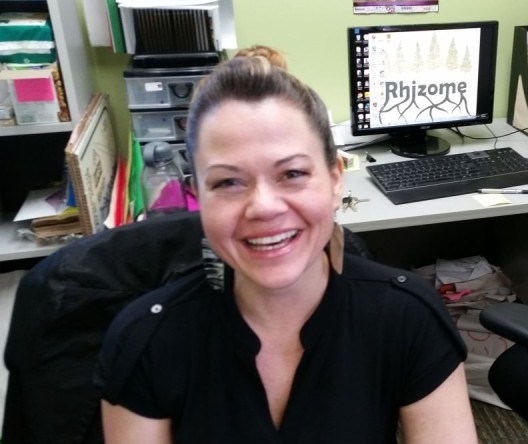 Chaw-win-is, Indigenous Education Instructor
Chaw-win-is is a member of both the Tia-o-qui-aht and Cheklesaht Nations of the Nuchah-nulth peoples of west Vancouver Island. She has been involved in Indigenous education in various roles at the University of Victoria, including teacher, intercultural education and Indigenous Resurgence Coorindator. She tells education students: It is incumbent on you as a teacher to continue to learn and to pass on your knowledge of colonization, part and present, because it has been purposefully silenced for so long.
For more information about Chaw-win-is please visit: https://www.uvic.ca/news/topics/2017+indigenous-resurgence-coordinator+ring 

Ry Moran, Associate University Librarian for Reconciliation
Ry is Canada's inaugural Associate University Librarian – Reconciliation at the University of Victoria. Ry's role within UVic Libraries' focuses on building and sustaining relationships to introduce Indigenous approaches and knowledge into the daily work of the Libraries and more broadly across the campus community.  Ry is a proud member of the Red River Métis.
For more information about Ry, please visit: https://www.uvic.ca/news/topics/2020+indigenous-libraries-rymoran+media-release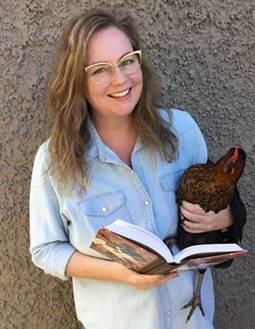 Pia Russell, Uvic Indigenous Studies Librarian
Pia has devoted over 20 years to librarianship and is currently the Indigenous Studies Librarian at the University of Victoria where she is passionate about connecting people's curiosity with the information they need to create knowledge. One of the most exciting aspects of my work is the inclusion of Indigenous voices and ways of knowing and being into librarianship.
For more information about Pia please visit: https://www.uvic.ca/news/topics/2019+convo-hums-russell+news