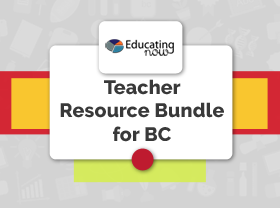 We are pleased to announce the launch of a district site license for Educating Now to support the use of our new math resources. Educating Now is a teaching and learning math resource for staff, developed by SD61 teacher Nikki Lineham. It was a highly requested item from the math resource sessions held last spring. It is a resource offered to any sd61 staff who choose to use it.
Educating Now is a series of quick videos and other resources such as lesson plans, differentiated tasks, discussion forums, and printables. All of these resources are aligned with BC's revised math curriculum. The lessons are designed to support a deep understanding of mathematics. This resources is open to all SD61 employees. Teachers will maintain lifetime access to this resource as long as they remain SD61 employees.
There will be monthly Q&A sessions available online to maintain ongoing personalized support for all interested teachers.
This outstanding resource is now available to all SD61 teachers at EducatingNow.com
Please see this handout for more SD61-Registration-Instructions-for-Educating-Now-Fall2021-2022.
*** The coupon code is now  SD_61  for Fall 2021- 2022 ***
Printable flyer for your staff room.