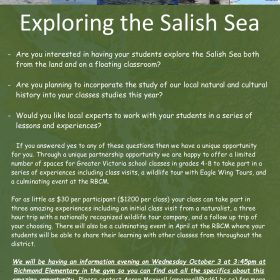 Are you interested in having your students explore the Salish Sea both from the land and on a floating classroom?
Are you planning to incorporate the study of our local natural and cultural history into your classes studies this year?
Would you like local experts to work with your students in a series of lessons and experiences?
If you answered yes to any of these questions then we have a unique opportunity for you. Through a unique partnership opportunity we are happy to offer a limited number of spaces for Greater Victoria school classes in grades 4-8 to take part in a series of experiences including class visits, a wildlife tour with Eagle Wing Tours, and a culminating event at the RBCM.
 We are quickly approaching our first booking for the "Exploring the Salish Sea" program. Thank you to those who have shown interest, and to those who have been included in this fall cohort.
This Thursday, Sept 16th 3:30pm – 4:40pm will be an orientation and information session on zoom. We will do a further explanation of the program with time for questions and answers. This is mainly for the Fall cohort, but all are welcome.
Here is the zoom link:
We also have an opportunity for a ProD session, that will include going out on the boat together, on Prod Monday, Sept 27th 2:00pm – 5:00pm. We will be on the dock 2:00pm – 3:00pm for explanation and orientation of the program, and then for those who can join, we will go out on the boat from 3:00pm – 5:00pm. We have one adult spot for each booking so please give priority to those who have not been out on the boat and are able to join us from your group.
The program begins the next day with our first classroom visit on Sept 28th. If you need a reminder for your date, please see this calendar for updates:
We have the first date tentatively booked for the Museum total take over for Friday, December 10th. Groups 1 – 15 will be included on this date. The rest will be sharing on April 20th.
Groups of 50 will take part in four amazing experiences including an initial class visit from a naturalist, a three hour trip with a nationally recognized wildlife tour company, a follow up trip of your choosing with the naturalist, and a culminating event at the RBCM where your students will be able to share their learning with other classes from throughout the district.
On Monday, Sept 27th, ProD Day, the teachers that have been selected for the program will go out on the boat at 1:00pm so that they can experience first-hand what the boat trip entails. The whole program includes this Pro D, three sessions with a naturalist, and culminates with the students sharing their learnings at the RBCM in either December or April.
We are very excited at the growth of this program this year to facilitate 30 trips (up to 1500 participants) out onto the Salish Sea so that we can build connections between our students and this incredible environment. Thank you for your interest and we look forward to continuing to grow this program to meet the needs of our district.
Please click below to request to participate in this opportunity. Registration is open until this Friday, October 11 as we will be allocating the spots and sending out confirmations early next week. Spots are reserved for each school family, as well as one-third of the spots will be offered by random draw.