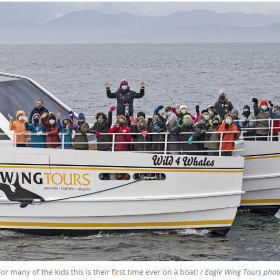 Educators:
Are you interested in having your students explore the Salish Sea both from the land and on a floating classroom?
Would you like local naturalists work with your students in a series of lessons and experiences?
Are you planning to incorporate the study of our local natural and cultural history into your classes studies this year?
If you answered yes to any of these questions then we have a unique opportunity for your classroom. Through a partnership opportunity, we are happy to offer a limited number of spaces for Greater Victoria school classes in grades 4-8 to take part in a series of experiences including class visits, a wildlife tour with Eagle Wing Tours, and a culminating event at the Royal BC Museum. It is in partnership with the University of Victoria' Ocean Network Canada (ONC) and Seaquaria.
Groups of up to 45 students will take part in four experiences including an initial class visit from a naturalist, a three-hour boat trip with a wildlife tour company, a follow-up trip of your choosing with a naturalist, and a culminating event at the RBCM where your students will be able to share their learning with other classes from throughout the district.
CREDIT: The following was written in partnership with writer Valerie Shore, a marine naturalist with Eagle Wing Tours:
www.eaglewingtours.com/articles/our-popular-marine-education-program-returns/ 
Four-part education program
A primary goal of the program is to help students make an emotional connection to the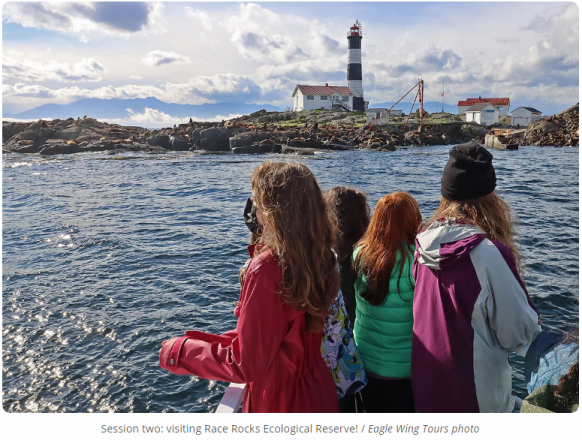 Salish Sea through an experience and to nurture in them a sense of social responsibility.
To do this, the program is organized into four parts. The first three sessions are led by Eagle Wing's marine education team. The team works closely with each teacher who chooses an essential question from the curriculum and can be woven throughout the classroom learning.
Examples of essential questions can include: How are living and non-living things dependent on each other in the Salish Sea? How does human activity impact the Salish Sea? How can we take better care of the Salish Sea environment?
The essential question addresses themes of environmental stewardship, conservation, natural resources and the economy, and sustainability.
The first learning session is an introductory classroom presentation that reviews the natural and cultural history of the Salish Sea.
The second session is an experience on board an Eagle Wing Tours vessel. Students see a variety of marine wildlife and learn first-hand about the ecology of kelp forests. Each tour follows the class's chosen learning theme.
"Many of these students have never been on the water before, so this session is a very special experience for them," says Eagle Wing naturalist and interim program director Meaghan McDonald. "We want them to feel the wind in their face and absorb the sights, sounds and smells of the Salish Sea. It's all about making that connection with the ocean environment."
The third session is a hands-on activity that ties together what the students have learned so far. Examples include tide pool exploration, a food web game or a salmon obstacle course. "As we work through the three sessions, we can see that connection to the ocean happening," says McDonald. "It's amazing to watch!"
The final component of the program is a student gallery showcase day in partnership with the Royal British Columbia Museum. In this wrap-up session, each classroom presents an artifact they've created that reflects their understanding of and connection to the Salish Sea.
"The students have a lot of freedom with this session," says McDonald. "Each class sets up in the section of the museum that's relevant to what they've learned. Then they present their artifact to each other and to the general public. They get really involved. They're so proud of what they've learned!"
Student showcases are held at two different times of the year for students to enjoy from other schools.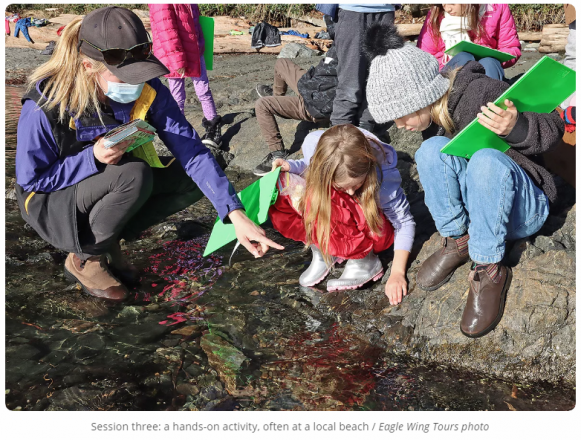 We are very excited at the growth of this program this year to facilitate 40 trips (up to 1,800 student participants) out onto the Salish Sea. Thank you for your interest and we look forward to continuing to grow this program to meet the needs of our district.
Educator Resources
Please see here for resources to support your classrooms essential question: