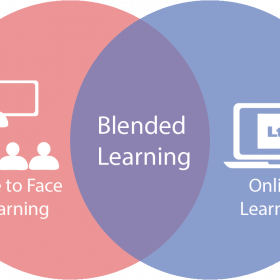 This resource page is intended to support parents of children in French Immersion who are currently enrolled in the hybrid learning option. 
The curriculum French Immersion students explore is the same as our regular program.  Our immersion students, however, both explore our BC curriculum in French and learn the French language through curriculum.  One of the questions brought forward from our French Immersion parents and students who have elected to participate in the hybrid learning option this year is "How do we maintain French language learning in hybrid?".  Below are a few ideas and resources that the District Team have put together to support this.
The activities and resources provided below will support the maintenance of reading, writing, and speaking French. Most of the online resources do not require an account and students can still check out French books from their school libraries.  
Suggested activities (will depend on age)
Daily reading in French: connect with your school library to sign out books and see suggested written text resources. 
Daily oral interaction in French: your child could chat with a peer, a family member, a neighbour or other member of your community in French on a daily basis. 
Daily writing: Keeping a journal to write in on a regular basis will help maintain written production skills. Emailing a peer or family member in French is another way to authentically support writing.
Please be mindful that the suggestions above and the following resources are not meant to replace the French Immersion learning experience schools offer and are not intended to add more stress as you support your children's learning at home in the hybrid learning option.  We encourage families to explore some French language learning at home and these online connections can support this.
As you explore these activities, have fun, be curious, be creative, and talk to your child about what they are thinking. Encourage siblings to learn together. This is a great opportunity for older kids to lead learning with younger children and maybe an opportunity for you to learn a little French from your child!
Primary (K-2)
Online databases of digital resources in French
Category
Resource
Description

Elementary E-library

GVSD E-library

French resources on GVSD elementary library website. 

Online resource database

https://www.ecoleouverte.ca/fr/

École ouverte

 

Quebec's online digital database for distance learning.

Literacy, numeracy and subject area resources in French. This site is all in French.

Literacy
Category
Resource
Description
Account

Written and audio

https://www.biblioenfants.com/

Biblioenfants

is the French version of Tumblebook library. Audio and written stories are available at all levels.

Contact your school Teacher Librarian for school account username and password.

Written text storybooks

https://storyweaver.org.in/search?query=french

Storyweaver

Online story books from Pratham Books. Parents can consult level descriptions under "level" tab.

open

Written and audio text

https://coucou.telequebec.tv/contes

Téléquébec

Fairytales read aloud to student by a librarian.

open

Written and audio text

https://www.storybookscanada.ca/stories/fr/

Storybooks Canada

Storybooks read aloud to student. Written text is highlighted to help student follow along.

open

Video

https://ici.radio-canada.ca/jeunesse/prescolaire

Radio Canada: zone des petits

Radio Canada (CBC) Videos and games in French.

open

Video 

Idéllo

Idéllo

Video platform with many shows, educational videos etc. 

Subscription required but free account options exist.
Elementary (3-5)
Online databases of digital resources in French
Category
Resource
Description

Elementary E-library

GVSD E-library

French resources on elementary library website- 

Online resource database

https://www.ecoleouverte.ca/fr/

École ouverte

Quebec's online digital database for distance learning.

Literacy numeracy and subject area resources in French. This site is all in French.

Literacy
Category
Resource
Description
Account

Written and audio books

https://www.biblioenfants.com/

Biblioenfants

 

Biblioenfants is the French version of Tumblebook library. Audio and written stories are available at all levels.

Contact your school Teacher Librarian for school account username and password

Written text story books

https://storyweaver.org.in/search?query=french

Storyweaver

Online story books from Pratham Books. Parents can consult level descriptions under "level" tab.

open

Written and audio text

https://www.storybookscanada.ca/stories/fr/

Storybooks Canada

Storybooks read aloud to student. Written text is highlighted to help student follow along.

open

Video 

Idéllo

Idéllo

Video platform with many shows, educational videos etc. 

Subscription required but free account options exist.

Video

https://ici.radio-canada.ca/jeunesse/scolaire/emissions/5989/explique-moi-ca

Radio Canada

:

zone jeunesse

Radio Canda (CBC) Videos and games in French.

open
Middle School (6-8)
Online databases of digital resources in French
Category
Resource
Description

Online library website

https://centrallibrary.sd61.bc.ca/resource-by-subject/langue-francaise/

GVSD Middle School library website

Middle School library French resources. You may wish to visit the French resources section of your child's middle school website instead.

Online resource database

https://www.ecoleouverte.ca/fr/

École ouverte

Quebec's online digital database for distance learning

Literacy
Category
Resource
Description
Account

Written text

https://blog.okapi.fr/folder/pour-ou-contre

Okapi: pour ou contre?

Short texts and videos asking students to respond sharing their opinion on issues pertinent to teens.

Students are able to share their opinion or thoughts and read comments in French written by other students around the world.

open

Audio

https://blog.okapi.fr/folder/podcast-ma-vie-dado

Podcast "Ma vie d'ado"

Podcast by teens for teens. Under 10 minutes. Discussion of current events and issues pertinent to teens.

open

Video 

Idéllo

Idéllo

Video platform with many shows, educational videos, etc. 

Subscription required but free account options exist.

Video and written

https://www.1jour1actu.com/infos-animees

1 jour 1 actu

One video or written article per day on a theme connected to world events or society in general. 

Opportunity to share opinion or thoughts and read comments in French written by other students around the world.

open

Video

https://ici.radio-canada.ca/jeunesse/maj

Radio Canada: Maj

Radio Canada (CBC) Video and blogs for teens on a variety of topics

open

Audio, written text and writing

https://www.duolingo.com/learn

Duolingo is an interactive online language learning tool. Tasks including oral comprehension, writing, and reading.

Account required