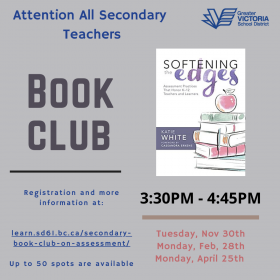 Secondary Teacher Book Club:  Softening the Edges:  Assessment Practices that Honor K-12 Teachers and Learners  – Book Club and Interactive Sessions with Katie White.
Participants will receive a copy of Katie's book and have the opportunity to interact with Katie through the afternoon sessions.
We are able to offer this to 50 participants through the district.  Others could join if schools support purchasing additional books.
Dates:
Tuesday, Nov 30th
Monday, Feb, 28th
Monday, April 25th
Registration deadline is November 10th for ordering books to arrive in time for the first session.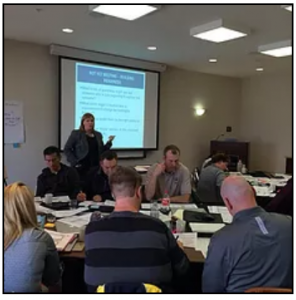 About Katie White
Katie White is Coordinator of Learning for the North East School Division in Saskatchewan, Canada and an author and Assessment Associate for Solution Tree, in addition to being an independent educational consultant. With more than 25 years of experience in education, she has been a system leader, an administrator, a learning coach, and a K–12 classroom teacher.
Katie was an integral part of her school division's multiyear journey through renewed curricula and standards/outcome-based assessment and reporting. Through her work at the system level, she has developed an integrated understanding of the relationships between learning, curriculum, assessment, instruction, environment, data, Response to Intervention, resource deployment, and system strategic planning. Her work with educators supports both a holistic understanding of learners and how they interact with our school systems alongside an in-depth refinement of practices that support teaching and learning in classrooms. Her focus is on helping educators develop a personalized understanding of the connections between curriculum, assessment, and instruction through a growth in leadership, confidence, and understanding.
To see the work of Katie and some of her assessment colleagues, visit the Solution Tree website allthingsassessment.info
Katie has worked as a contracted writer and assessment expert for various groups, including the Saskatchewan Professional Development Unit, authoring their provincial assessment training, as well as the LEGO Company as a creativity and assessment specialist. Katie has also consulted with the Saskatchewan Wildlife Federation to develop the assessment and instructional support documents "Archery in Saskatchewan Schools" and "Fish in Schools". Her blog, Just Thinking Out Loud…provides perspectives on multiple aspects of leadership, teaching, and learning. Softening the Edges: Assessment Practices that Honor K-12 Teachers and Learners is her first book and Unlocked: Assessment as the Key to Unlocking Everyday Creativity in the Classroom is her second publication. Her newest book on self-assessment is due to be published in 2021.
​She received a Bachelor of Education and Master of Education in Curriculum Studies from the University of Saskatchewan.
Please visit https://www.kwhiteconsulting.com/ for more information